OUR YEARS AT SENSOR SCHOOL IN MILLVILLE NJ

3rd Grade Class of 1951, Teacher Miss VanHook
4th Grade Class of 1952, Teacher Miss Errickson
5th Grade Class of 1953, Teacher Miss Phiffer

Updates



Sensor School about 1951 (Above)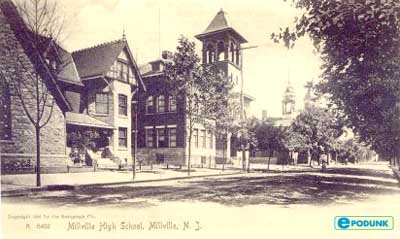 The first building to be referred to generally as "Millville High School" was erected in 1895 on Second Street.
The cornerstone for this building was laid on November 30, 1895.
The building was then known as the "Sensor School."
By 1920, the school's enrollment exceeded the capacity of the building on Second Street.
The Board of Education secured two World War 1 pre-fabricated buildings and erected them in the area between 2nd and 3rd Streets.
They also leased space in the Baptist Church (Second and Sassafras Streets).
Sensor School 3rd Grade, 1951 (Above)
1st row: Miss VanHook, Mary Ebert, Craig Satterlee, Pat Baird, Bill Roun, Dianna Pastuck, Earl Zimmerman, Gloria Pettit
2nd row: Harry Moore, Ralph Bachman, Wendy Doabler, Jim Mayhew, Carol Meiser, John Silvers, Pearl Emerson, Drew Barber, Ethel Hughs, Albert Price
3rd row: Janet Tedesco, Bobby Atkson, Theresa Antonelli, Glen Simkins, Jean Tribbit, Donald Lanko, Sue Bramen, Frank Panczyszyn, Eileen Piampiano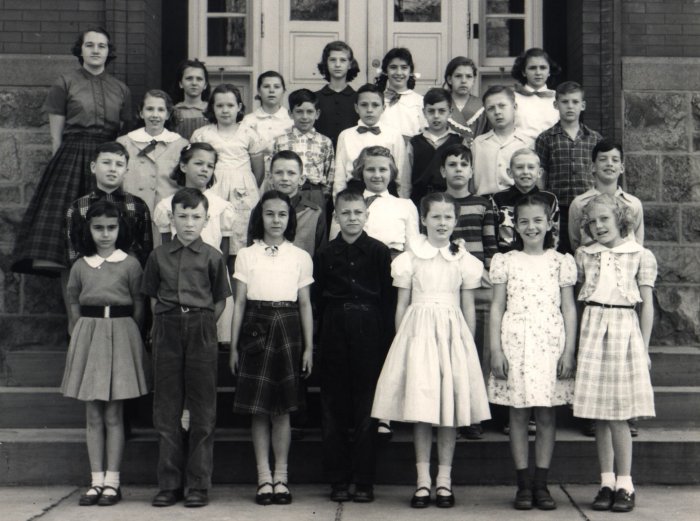 Sensor School 4th Grade, 1952 (Above)
1st row: Miss Errickson, Gloria Pacitto, Barbara Frankel, Pat Baird, Elise Carasau, Gloria Pettit, Dianna Pastuck
2nd row: Carol Meiser, Mary Ebert, John Silvers, John Ushler, Brian Rishell, Glen Simkins, Earl Zimmerman
3rd row: Jim Mayhew, Wendy Doabler, Harry Moore, Pearl Emerson, Charles Burgess, Drew Barber, Craig Satterlee
4th row: Eileen Piampiano, Frank Panczyszyn, Theresa Antonelli, Donald Lanko, Ethel Hughs, Sue Bramen, Jean Tribbit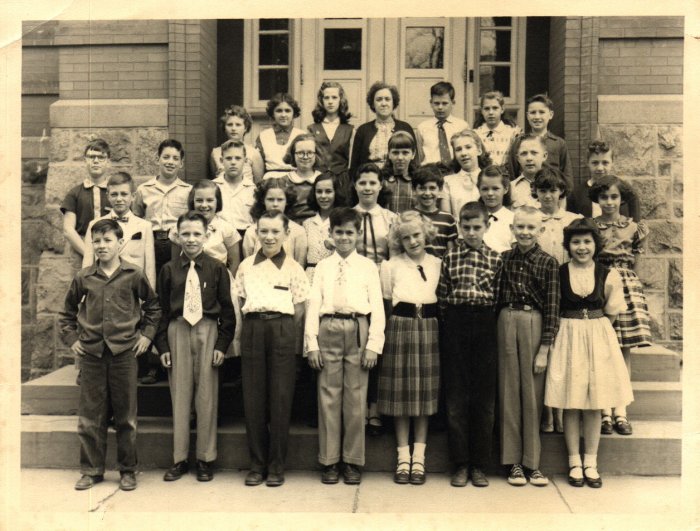 Sensor School, 5th Grade, 1953 (Above)
1st row: Pearl Emerson, Dianna Pastuck, Pat Baird, Miss Phiffer, Bill Roun, Gloria Pettit, Jim Mayhew
2nd row: Charles Burgess, Craig Satterlee, Earl Zimmerman, Mary Ebert, Gloria Pacitto, Carol Meiser, Glen Simkins, Agusta Grasso,
3rd row: Donald Lanko, Sue Bramen, Ethel Hughs, Theresa Antonelli, Barbara Frankel, John Silvers, Wendy Doabler, Francis B , Eileen Piampiano
4th row: Bobby Solomon, Harry Moore, Frank Panczyszyn, Albert Price, Jean Tribbit, Brian Richell, Drew Barber, Janet Tedesco

Does anyone know what the girls name is that is standing in-between Wendy and Eileen in the above picture?
I am pretty certain her first name was Francis. If you know, please email me at; HGMooreJr@aol.com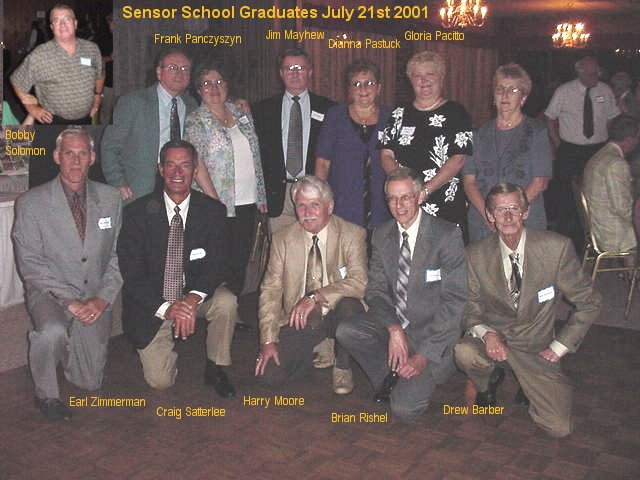 Sensor School Grads, July 2001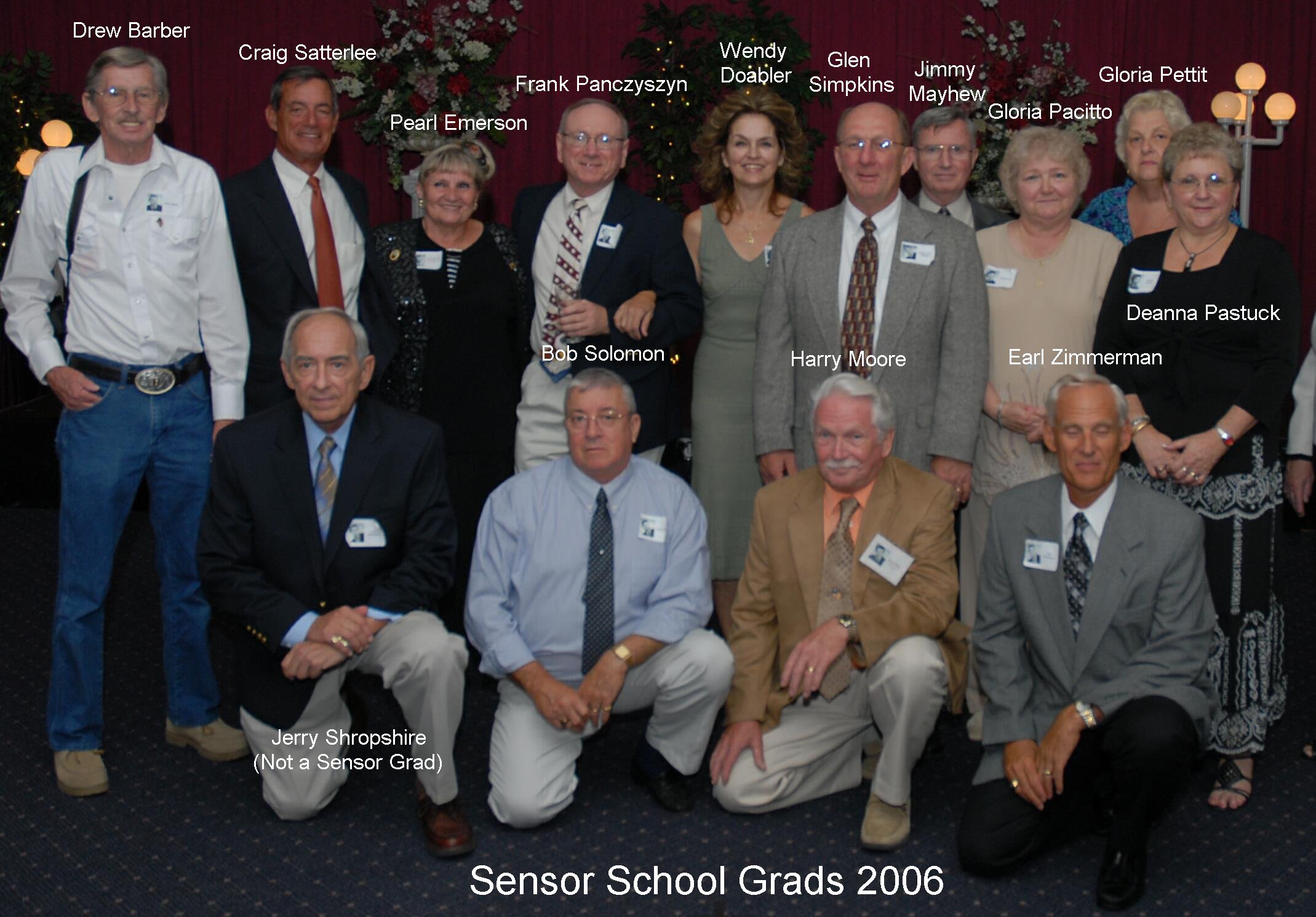 Sensor School Grads, August 2006

Sensor School Grads, September 17th 2011
---


BLUE = MHS-61 GRAD
SENSOR SCHOOL 1953 GRADS
"CLICK ON EMAIL ADDRESS TO EMAIL THEM"
FIRST NAME
GRAD NAME
WED NAME
ADDRESS
TOWN
STATE
ZIP
EMAIL
1
Theresa
Antonelli
Moore
GONE BUT NOT FORGOTTEN










2
Francis
B

?


ADDRESS UNKNOWN










3
Pat
Baird
Elliott
7 Lilac ave

Millville
NJ
08332



mailto:susiq55@yahoo.com

4
Drew (Robert)
Barber


GONE BUT NOT FORGOTTEN










5
Sue
Bramen



GONE BUT NOT FORGOTTEN










6
Charles

Burgess



ADDRESS UNKNOWN










7
Wendy
Doabler
Sack
453 Rt. 49
Woodbine
NJ
08270



mailto:wsack2@comcast.net

8
Mary

Ebert



ADDRESS UNKNOWN










9
Pearl
Emerson
Giordano
PO Box 1480
Vineland
NJ
08362



mailto:pearlgio@aol.com

10
Barbara
Frankel
GONE BUT NOT FORGOTTEN


11
Agusta
Grasso



ADDRESS UNKNOWN










12
Ethel
Hughs



ADDRESS UNKNOWN










13
Donald
Lanko



ADDRESS UNKNOWN










14
Jim
Mayhew


GONE BUT NOT FORGOTTEN










15
Carol
Meiser
McLaughlin
2425 Linden Court
Millville
NJ
08332




16
Harry
Moore


708 Sassafras St.
Millville
NJ
08332



mailto:HGMooreJr@aol.com

17
Gloria
Pacitto
Woolson
142 Country Lane
Buena
NJ
08310-1300




18
Frank
Panczyszyn


14641 Lake Shore Rd.
Kent
NY
14477



mailto:tfpanczy@ez.net

19



Deanna
Pastuck
Phifer
5275 Rt. 49
Millville
NJ
08332




20
Gloria
Pettit
Bishop
5607 Snyder Ave.
Millville
NJ
08332



mailto:glorybee43@comcast.net

21
Eileen

Piampiano



1145 W Chestnut Ave.
Vineland
NJ
08360-4409



mailto:midmaj1@verizon.net

22
Albert
Price



346 Palm Road

Millville

NJ

08332





23
Brian
Rishel


GONE BUT NOT FORGOTTEN










24
Bill
Roun


1887 North Delsea Dr. Lot #79
Vineland
NJ






25
Craig
Satterlee


GONE BUT NOT FORGOTTEN










26
John
Silvers



ADDRESS UNKNOWN










27
Glenn
Simpkins


114 Prestwick Drive Heritage Plantation
Pawleys Island
SC
29585



mailto:glennsimpkins@earthlink.net

28
Bob
Solomon


48 Cornwall Ave.
Millville
NJ
08332



mailto:bgssr61@aol.com.com

29



Janet
Tedesco


2232 Gladstone Ave.
Louisville
KY
40205




30
Jean
Tribbit

GONE BUT NOT FORGOTTEN


31
Earl
Zimmerman


410 Court Blvd.
Millville
NJ
08332



mailto:Twozies@comcast.net
---



The E-mail address: HGMooreJr@aol.com

Counter started January 26, 2011

---